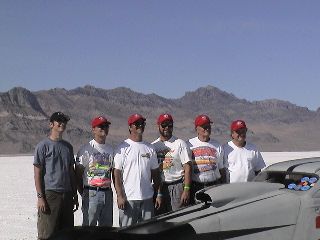 ---
This is lateAugust Speedweek report...I am starting the report from my perspective of Bonneville Salt Flats racing 2010. This has been an unusual year for me. Since for many years, Bonneville has been part of my life…since 1958 as competitor.
In 1957, I first came to Bonneville as a spectator with a small group of fellow car club members of the Roadrunners of Whittier CA (Southern California Timing Association (SCTA)) to watch and cheer on Ak Miller and Dr. Nathan Ostich run the "Thing". The "Thing" was a highly modified Kaiser-Frazer Henry "J" powered by a Chrysler Hemi behind the driver (mid-engine). It was an ugly, mustard yellow contraption built by Ak Miller, a mechanical genius, who was my hero at the time and, although he has passed from this life, continues to be. It was Ak that began calling me Tom Thumb because I ran a 300 cu in engine, and always has. (One of Ak's sayings and his belief, "There is no substitute for cubic inches".)
Since the nickname stuck…all my racecars have been run as the "Tom Thumb Special". Over the years, I have had seven cars, a '34 Dodge pickup, a'48 Ford Coupe, a 1927, next a 1930 and then a 1929 Ford Roadster, a 1934 Ford Coupe (the famous Pierson Coupe) and last another '34 Ford Coupe, a clone with a stretched wheelbase… construction started in February 1992, making first run August the same year and its final run August 2009.
My first competition at Bonneville Speedweek 1958, was a 1948 Ford Coupe powered by a 300 cu in Desoto V-8. In 1959 I built a 1930 Ford roadster to run at the ¼ mile, Dry Lakes and Bonneville. It was very successful at the ¼ mile drags. Switching to the 302 cu in Chevrolet in 1964 and to a '29 roadster in 1965 became a winning combination at Bonneville, setting the D/GR Record at 176.774 mph. We lost the record in 1969 and chased it until retiring the car the end of 1982 with a best of 199.126 mph. Since technology has advanced, the power has gone up considerably. The record now stands at 218.412 mph. We have been very successful running the coupes, Pierson Coupe (1980-'91), and the latest Tom Thumb Special VII (1992-'09). We have set more than twenty records, and along the way, placed seven family members into the Bonneville 200 MPH Club.
This has been a long introduction to 2010, but I think you can understand why this is a very different year for me. I have enjoyed my role this year as a spectator (forced upon me by the crash 9-09 that took Barry from us) because there was never time for this when running a car. Most of us, as competitors, really don't get very deep into relationships and don't actually know much about the lives outside the salt flats. It's sad, but just the way it is.
In August, sons Dan and Jeff, Jim Eddy, (who has been involved with my cars since the seventies) and I spent a few days on the salt enjoying Speedweek. We had shared the pit area with the Shasta Roadsters Club of Redding CA in 2009. This year, besides Lon Bonnett/Steve White's front-engine modified '27 Ford roadster, Lenny Van Harpin's rear-engine modified '34 Ford roadster and Denton Hollifield's '59 Fiat 600 Competition Coupe, a new entry would be trying their wings.
Paul Ogden's '64 Plymouth Barracuda running in the Blown Gas Coupe Class was designed and built by Denton Hollifield, owner/driver of the Comp Coupe above. Both of these cars had capability of surpassing 300 mph. We would be using this pit as our base and looked forward to a great week. We planned to help where we could but stay out of their way.
I enjoyed visiting with several long-time friends, but still missed making contact with others that were at Speedweek. Meantime, the Shasta Roadster cars were not doing well…This was the third year on the salt for Denton's Comp Coupe. Although he had run in excess of 240 mph his first week, misfortune plagued him. The car had spun two times and the engine was seriously hurt by a lean condition. Last year it repeated major damage by overheating. Denton made his first pass this year, shutting off at the 3-mile, expecting that the short run would yield needed info to give a handle on the tune-up. When looking at the computer data, it was easy to see that it was much too lean at the end of this first run. The right side head gasket was leaking. After spending most of the week trying to seal up, it obviously was done for the week.
Lenny Van Harpen was struggling, too. Among other things, the roadster experienced transmission problems that sidelined it for the week. Bonnett & White were sorting out the electronic injection programming. Lon made two licensing passes, one at 173.944 mph for his "B" license and his second with a top of 194.799 mph, needing 200+ for his "A" license. They decided to, rather than hurt it, take it home and work on getting it programmed correctly, with plans of come back next year. The Ogden team was also struggling with the electronic injection programming on the Barracuda. It is powered with a Twin-Turbo Kieth Black 531 cu in Chrysler, which could make as much as 2000 HP when dialed in. Dan Wait of Redding was driving the Barracuda. Although he has racing experience, he had not driven at Bonneville before. There has to be a steep learning curve in this kind of car. Dan made two runs, "C" license at 145.269 mph and "B" license at 168.180 mph. Ogden decided they would take it home, get his ducks lined up, and try again at the World Finals in October.
This had been an exceptional week, dry, hard salt and little down time due to weather. There were more than 500 entries, about a1/3 of them bikes. I watched a major crash, the Stringfellow & Kirk E/BGCC , that brought back visions of Speedweek '09. Jim was taken to the hospital, but fortunately, he was not badly injured. The car flew at near 270 mph, came down hard, and tumble down the course. Jeff and I went down to the Stringfellow pits the next day and talked with Donny (Stringfellow) for a while. He said that Jim was doing good…the nurse had asked Jim, "Who is the president." Jim paused and said, "Do you have another question?"… I knew Donny's father, Don, in the early 60s. I have watched these "kids" go fast for many years, you just don't expect these things to happen.
I will close this with a comment about the things we do…always pushing the envelope. One that gets your attention is the #911 Cummings - Beck – Davidson –Thornsberry 1934 roadster, out of Chico CA. This is powered by a, loud, super-charged 495 cu in Chrysler running 60% Nitro. It uses no cooling system, a dry block (no water), cooled by running extremely rich mixture of Nitro/Alcohol. It ran 280 mph in the 3rd miles using more than 20 gallons of fuel. Things like this ring my bell!
There were numerous vehicles that ran in excess of 300 MPH, quite commonplace now-a-days. The Poteet - Main Speed Demon streamliner, began the week running the gasoline class (D/BGS) ran 311.285 on a 315 MPH Record. Do to numerous problems, they switched to the fuel class (D/BFS) running against a 358.5 MPH Record and qualified @ 405.931. Next morning the return run was 382.813 which raised the record to 394.37 MPH. Later that day, the Speed Demon re-qualified @ 409.847 and made a backup run at 399.277 next morning to push the record over the threshold of 400 MPH, settling @ 404.56 MPH. This team appeared to have unlimited funds, but even so, they struggled to reach their goal. It is said, "Records are made to be broken." I say, "Happiness is a journey, not a destination..."
---
This is the first time I have missed attending and competing at the World of Speed since its beginning back in the mid-80s. Last year we did attend, but because of rain, the meet was delayed one day. We took advantage of the delay to hold a private Family Memorial Service for Barry before the WOS Meet started. This year instead of attending, Margaret and I went on a much delayed trip to Italy. We had a great time, but I have to admit that, during the trip, the meet entered my mind frequently...old habits are hard to break!
---
Without a car to run, and a new appreciation for safety, my son, Jeff has been polishing his skills as part of the Technical Inspection Team. He was helping with the tech-inspecting program at Speedweek this year as well. Since Jeff experienced the distinction of getting up-side-down a few years ago, the result of an unbalanced car, and the loss of his brother, Barry in an proven car, (which carried no ballast) has a more intense awareness of areas that many neglect. Along with Lee Kennedy, Jeff has been involved in crash diagnosis this year, too. Even with the intense attention to detail, cars do get into trouble.
There were two major crashes in coupes this year that I was aware of. At Speedweek, I watched the Stringfellow - Kirk Comp Coupe fly and crash which brought back memories of our accident. We had been careful to monitor what is happening in our car. I installed sensors front and rear to see what attitudes were occurring. The car was well planted and never had any lifting shown, even at a greater speed. This is why I am convinced it was the wind…Barry was leaning on a crosswind, which suddenly switch to the opposite side. (According to eyewitnesses, cross winds from both directions). In the Stringfellow car, it flew first and then tumbled down the course. Our car went around, barrel rolled and then went into the air as the body disappeared and left an exposed roll cage and chassis to dig in. (it seems to me that a metal car is going to be safer than a fiberglass body.) There was minor injury to the driver, Kirk and major damage to the coupe. (Donny Strigfellow is rebuilding the car).
At the World finals, Danny Thompson crashed the Mustang, which running greater HP, and was moving into a new speed arena. Again the injury to the driver was minor, but the car was badly hurt, which should be expected with this kind of speed (268mph). I certainly will not second-guess what happened in these accidents, but I know that in this sport, each time a car moves into a greater speed bracket, aerodynamically things change. Until the last few years, "Conventional Wisdom" had always been, "If it spins the wheel, add weight." Recent years, "Center of Gravity and Center of Pressure is on the front burner and we have learned is a good thing. A few years ago moving above the 200 mph area was left to the streamliners, but street bikes and cars can, with modest massaging, exceed those speeds.
Jeff and I left for the Bonneville on Monday, October 4, 2010 so that Jeff could assist with the early arriving entries. We based at the Shasta Roadster group again. Lenny Van Harpin, Blown Fuel Rear Modified Roadster, Denny Hollifield Blown Gas Competition Coupe, and Paul Ogden's Barracuda Blown Gas Coupe were entered and expectations for a good week were high.
As usual in this sport, problems arise…Denny is still having problems with high engine temps, too lean I suspect, and the motor is hurt after the first run ¼ @ 221.971 and 1st mile of 232.286 mph. He is through for the meet. After a couple of licensing runs, Lenny Van Harpin ran a ¼ @ 200.643 and 1st mile @ 209.039 to qualify against an Open Record in A/RFMR. His return run next morning was ¼ @ 196.769 and 1st mile @ 206.443 mph to averaged 207.741 mph for a new record in A/FRMR at Bonneville, unfortunately, this doesn't get him into the Bonneville 200 MPH Club (a minimum of 280.00 mph is required in this class).
Paul Ogden's car, a twin-turbo 520 cu in Keith Black Chrysler powered 1964 Plymouth Barracuda, has a new driver at this meet, Garrett Bateman the 2009 Nostalgia Funny Car Champion. Even with the experience in 240 mph funny car, Garrett still requires three licensing runs at Bonneville. With those out of the way, Garrett qualified with a ¼ @ 225.295 and 1st mile @ 228.640 on a 211.331 AA/BGC Record. On the return run, the record was raised to 222.788 mph. Garrett has the Bonneville record now, but requires breaking the existing AA/BGC Record of 274.125 to gain a Bonneville 200 MPH Club membership. I believe the car is quite capable. Maybe next year will tell.
The salt was in great condition this year and weather cooperated. Many impressive runs were made, but the star of the week for me was the 911 A/BFR, Cummins-Beck-Davidson-Thornsberry, from Chico CA. The roadster, running about 65 % nitro, with Dave Davidson driving posted a speed of…¼ @ 290.874 and 1st mile @ 297.695 mph to qualify on a record of 281.450 mph. The impressive thing to me is that the roadster does this in 3 miles and runs no engine coolant, just lots of fuel to keep the engine temps down. On the return run, Dave ran the ¼ @ 297.532 and 1st mile @ 304.606 mph. This set a record of 301.150 mph and Dave's membership in the 300 MPH Chapter of the Bonneville 200 MPH Club.
This has been a good week for me…I don't have a car to run, but I get to share other's joy when they succeed...life is good!