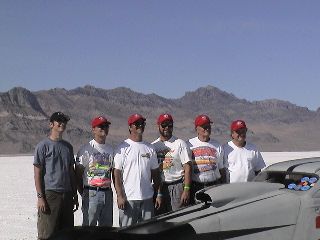 ---
I had a good time at Speedweek 2011. These meets continue to grow in numbers of entries and spectators. The SCTA does an admirable job of getting these cars and motorcycles down the course to chase their speeds. This year boasted two long courses, a short course and a mini-short course. The down side of these numbers is that it is difficult make contact with the people as in the past. Even on a marginal course, the speeds climb. I resided with the Shasta Roadsters Group from Redding CA. There were four vehicles that have potential of going fast...some did and others havenít yet, but all of us love a challenge...as it is said, "There is always next year."
Jeff, my eldest son, flew his plane to Wendover as he has done for the past several years. This year he was alone...Barry usually flew with him, good company and navigator, but this was Jeffís first time in many years to come without Barry. To make it even more lonely, he flew over on the 9th of August, the second anniversary of Barryís death. Jeff came early to assist with the inspection of entries. I came on Thursday afternoon hitching with Paul Ogdenís King Air which took a little less than two hours. Beats driving for 8 to 10 hours. I would be coming back with Jeff on Thursday morning, the 18th of August, which takes four hours, still beats driving.
Since we were both at the Speedweek without transportation, Denton Hollifield, owner/driver of #204 B/BFCC, saw that we had rides to and from the salt. I served as a crew member helping where I could with the running of Dentonís B Class Blown Fuel Competition Coupe (a stretched í59 Fiat 600). Denton had been having lots of bad luck and we were hoping for a good week. On gasoline he had burned down five motors in four years. This year he would be running on a 294.868 mph that was set in 1985 by Tom Burkland. Starting on 20% nitro, the first run would be through the 2 1/4 mile to get some info to build on. This netted a 249.081 mph with the shut down at the 2 Ĺ. The fastest ride he had had to date.
The next run registered a ľ -242.978 mph, 1st mile - 256.691 and 286+ mph in the middle mile. When he pulled the chute, it threw the car side ways for a ľ of a mile slide. According to the computer data, Denton had shut off at the 4.15 mile. The data showed 294+ mph at the 4 mile and registered 299+ mph at 4.15 mile. Obviously, if he had continued to the 5 mile, the speed would have been well over the 300 mph mark. Now the Potet Blowfish had raised the record to 299.891 mph and again to 307.399 mph. The record is much harder to break now, but I believe the car is capable...Unfortunately, Dentonís chute issue and the next run on a wet course has him a bit nervous. He put Garret Bateman in the car for the next attempt and the transmission went away. Its done for Speedweek 2011, but it will be back!
Garret Bateman was driving Paul Ogdenís AA/BGC Barracuda which set a 222.788 mph Record in 2010. This year Garret raised the record to 241.592 mph to enter the Bonneville 200 MPH Club. After the backup record pass, there was water in the oil so it was retired for the meet.
Bonnet & Smith #160 C/GMR, running a NASCAR 358 Chevrolet posted a 217.414 mph which is much below the capabilities of the car. They are still plagued with electronic fuel injection woes. They didnít hurt anything and I am sure they will get it worked out soon. Lenny Van Harpin, running a rear engine modified roadster is still searching for the combination also. He set the record in A/FRMR 207.741 mph in 2010 well below the capability of the car, but since it was an open record, why not claim it? He dropped a valve on Wednesday which ended this Speedweek for him. He will be back, possibly this year later.
I was able to make contact with a few of my many friends...wished that I had seen more, but at this meet, it is difficult because the pits are so big and competitors are scattered across four courses. I will go back to the World of Speed in September and hang out with Dave Haller who has a new modified roadster. We will see what the year brings...maybe World Finals as well in October.
---
This is different year as usual, so I chose to rent a car for my transportation to the World of Speed. My 2002 Trans Am is in the body shop again...too often...HISTORY...before I had 2000 miles on it an employ of the body shop had backed into it while we were delivering our GMC truck for minor repairs...a few months later while we were eating lunch at Buzís Crab Restaurant, a waitress paged the owner of a Red Firebird, I responded and found that a pickup truck which was parked across the street on a hill had jumped out of park and came backwards into my Trans Am doing over $7000 damage. Later again, while sitting in line at the gas station, a lady decided to change the line she was in, backing into my driverís door. Then, the first accident where the vehicle was moving, I got hit by a truck while turning into a parking space, neither of us saw the other until the crash...then a few months ago, the driver of the pickup that hit me said I ran the red light, I couldnít argue the accusation, but I saw no red light or the truck,, the first I knew of a problem, I was spun around. He hit me just behind the drivers door. This issue was estimated at $11,000 and my insurance wanted to total the car. I challenged their decision and they finally wrote me a check for the estimate and I had it fixed for a little less. Now the mirror on the driverís side had just broken loose, which was being fixed under warranty so I felt that renting transportation was the wisest way since I wonít have to be concerned about rust on my car.
Instead of being just a spectator, I was scheduled to help crew the #93 AA/FMR. Dave Hallerís modified roadster is powered by big block Chevrolet running methanol through an Enderle Injection. I had had considerable experience with alcohol and mechanical injections so I was invited to help dial it in. Tuesday we chose to run to the 3 mile and shut down to get a look at things. The car was being driven by Dennis Lindberg from Copenhagen Denmark who recorded the following... 184.939 ľ and 194.060 mile one. A look at EGTs gave concerns, above 1400 degs seemed a bit lean. The injection was using a .100 main jet with a High Speed By-pass using a .060 jet. This concerned me, so we blocked off the HS By-pass and made another pass on Wednesday. This time it ran ... 190.795 ľ, 197.917 mile one and 209.145 second mile. Now it looks rich and is laying down on the top end. We leaned and ready for another check Thursday..191.914 ľ , 199.563 mile one and 209.964. Dave is being very cautious, changing the oil each run, which is wise when rich on alcohol. It appears that it is still rich, although the EGTs are still reading high, but often this is because of fuel burning in the header. We leaned it again and prepared for a run on Friday. Unfortunately, shortly after record runs it began to rain and ended our attempts for this year.
This was a great year at the World of Speed...lots of fast runs and 25 records were set this year
The #9991 XX0/BGL, former GOT SALT Lakster, now powered by a GMC 6, SALT CAT RACING put Doug Grieve into the Bonneville 200 MPH Club @ 206.011 and 202.952 for an avg of 204.481 MPH Record. The #77 B/GL NO NITRO HAMMOND with Tegan Hammond, Seth & Tanisís daughter ran 294.75 and 294.015 to avg. 294.382 MPH for her Red Cap. She seemed a bit disappointed that she hadnít run over 300, (a family thing), but I am sure it is in the future for her. Vescoís Liner 3444 D/GS VESCO RACING with Rhonnie Vesco, Rickí daughter driving, ran 309.974 and 311.989 for her Blue Cap at an avg. of 310.981 MPH. She had struggled for a few years, but it seemed easy for her this year.
---
Monday October 3, 2011 found Jeff and myself winding our way to Wendover UT to attend the World Finals again this year. I rented a car at Budget Rental just down Churn Creek Rd. near our shop, picking it upabout 8:30 AM and headed for Red Bluff to pick up Jeff. We took a different route this time, which was supposed to be quicker, but ended up being considerable slower. We headed down 99 hwy to Oroville, then 70 hwy toward Marysville cutting across to hwy 20 and connecting to I-80 at Camp Spalding. This was a scenic route, but slow because of construction and too much truck traffic which doesnít travel very fast on the winding steep hills. We stopped in Reno for lunch and continued on to Wendover arriving there at 9 PM Ut time.
We got a nightís rest and went to the salt at 8 AM on Tuesday where Jeff was assisting with the Tech Inspection. I went to the pits and found car #204 B/BFCC owned, built and driven by Denton Hollifield. Paul Ogdenís 1969 Barracuda #6969 AA/BGC was pitted next to the Comp Coupe, both cars were under the Shasta Roadsters Club entries from Redding CA. Garrett Bateman drove the Barracuda to the AA/BGC record 222.788 mph at Speedweek last year and upped the record at Speedweek this year to 241.592 gaining entry into the Bonneville 200 MPH Club. They were set to raise the record higher. Denton ran a best time of 286 MPH, shutting down short of the 4 ľ with the RacePak showing a 299 MPH. During the week Poteetís Blowfish set the record at 307.399 MPH. I think the Denton car is capable of qualifying and we were looking forward to giving it a try. The car was warmed up, valve adjustment checked, fueled and prepped and bundled up in case it rained.
Unfortunately, it was good the car had been prepared to weather the possible rain. The rain started at about 10 AM on Wednesday...we left the salt at 11 AM and too much rain fell during the rest of the day and what was a race course was a like. Everyone that had been optimistic had to pick up their pits and load the cars while wading around in the water. I have done this too many times, but I have always been one of those who looks for the best. Many of the racers have that attitude...they will not leave until the meet is canceled!
We left for home at 6:30 AM California time Thursday morning. The temp was at 36 degrees and we knew that the higher altitudes might give us some trouble, but we luck out with no snow or ice on the road. With temps between 31-33 degrees F., from between Wells and Elko NV, we experienced some heavy snowing which continued on and off until past Carlin NV. Again, as we drove through the mountains in California, we saw nice snow scenes, but no problems on the highway. We arrived in Red Bluff at 4:30 PM, nine hours including stop for gas and food. At better travel time than going to Wendover. I would like to brag on the KIA we rented...not too bad, 39.4 mpg average for the trip. Good luck to everyone during the off season. I hope to be on the salt again next year.